TOP >
NEWS >
President Deguchi Meets with Honors Students to Discuss the Future of Japan
Ritsumeikan Asia Pacific University
President Deguchi Meets with Honors Students to Discuss the Future of Japan
The Honors Program for Global Citizenship selects APU students who can become role models within the university's multicultural campus. The program fosters their ability to contribute both to APU and the local community. Launched in the 2016 Fall Semester, 41 students from 18 countries have participated in the initiative. On February 7, President Deguchi met with 34 students from the program at a seminar held in the Beppuwan Royal Hotel.
Hosting the event was the HPGC supervising faculty, Associate Professor Isomine Sei of the Education Development and Learning Support Center. President Deguchi began the seminar with a special lecture on Japan's structural challenges and expressed his hopes for the HPGC participants. Students then held group discussions based on the lecture and presented their opinions and ideas to President Deguchi. The night ended with a reception where everyone could continue their discussions as well as raise new topics with the president.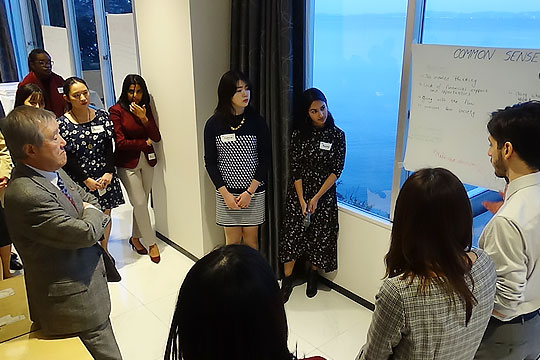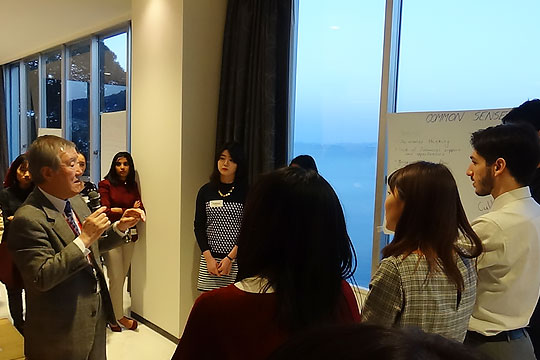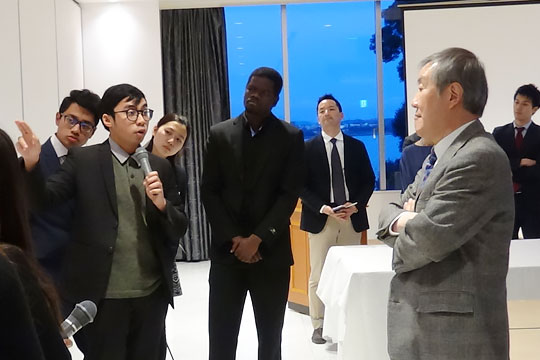 The ideas presented by the students are invaluable assets to solving issues facing not only Japan, but the Asia Pacific as a whole. Students in the honors program represent APU's diverse multicultural environment and will go on to shape the future of the region and the world.
・More details of HPGC are available at this link:
 http://en.apu.ac.jp/home/life/content51/
・To learn more about the formation of HPGC, click the link below: