TOP >
NEWS >
Hospitality and Tourism Program Receives UNWTO.TedQual Certification
Ritsumeikan Asia Pacific University
Hospitality and Tourism Program Receives UNWTO.TedQual Certification
The Hospitality and Tourism cluster within the College of Asia Pacific Studies has received UNWTO.TedQual Certification. United Nations World Tourism Organization (UNWTO*1) Tourism Education Quality Certification is granted to institutions that conduct high quality tourism education, research, and training programs. In March 2018, 71 institutions around the world hold this certification. APU is the second institution in Japan and the only private university in the country to receive UNWTO.TedQual Certification.*2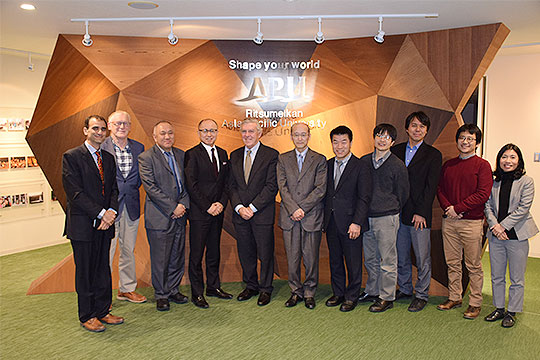 President Haruaki Deguchi commented that "I like to call APU, a multicultural environment with students from nearly 90 countries and regions, a 'United Nations of Young People.' I'm happy to see the Hospitality and Tourism cluster receive certification from the United Nations World Tourism Organization. This is an opportunity to show the strengthening of APU's education and research both domestically and internationally."
Dr. Hiroshi Todoroki, Dean of the College of Asia Pacific Studies, said that "UNWTO.TedQual Certification does not just focus on the details of a school's program. The certification process emphasizes the importance of a university's global and local relationships. APU was founded with the cooperation of Oita Prefecture and Beppu City, and conducts a variety of programs that keep the university connected with the area. Not only did our faculty contribute to the process, but our current students, graduates, and partner businesses all played key roles in helping APU receive this certification."
UNWTO.TedQual and APU
The Hospitality and Tourism cluster is one of four fields in APU's College of Asia Pacific Studies. The program has the advantage of being located within Beppu, a major destination for international tourism, and the College of Asia Pacific Studies offers a number of domestic and international study programs. The UNWTO's Global Code of Ethics for Tourism values the promotion of world peace via tourism, non-discrimination, multiculturalism, freedom of movement, and freedom of employment. These serve as the pillars of UNWTO.TedQual Certification. Certified programs must adhere to that spirit while meeting a high standard of education and research. This certification allows the Hospitality and Tourism cluster to build on existing efforts to connect with a global network of universities, institutions, and international agreements.
*1 What is the UNWTO?
Founded in 1975, the United Nations World Tourism Organization is the world's largest international tourism body. In 2003, the UNWTO became a special agency within the UN. The organization supports efforts to promote tourism, reduce poverty via tourism, and create sustainability in the tourism industry. For more information, you can visit the UNTWO website: http://www2.unwto.org/.
*2 You can see a list of UNWTO.TedQual certified programs here:
http://themis.unwto.org/content/institutions-unwtotedqual-certified-programmes
(external link)